CRETE - " THE ISLAND OF MIRACLES "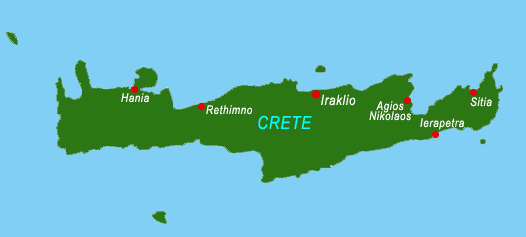 Crete, "the island of Miracles".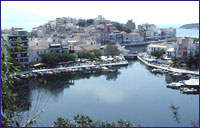 Land of Daidalos and Ikaros. Of Minoan vases and famous frescoes. Shining and starlit, with its black, baggy breeches and fringed kerchiefs. Romantic Crete, with its sea, rocks and gleaming plateaus. Crete, land of full-bodied wine and pungent tsipouro.Sleepless Crete, and of endless feasts under star-studded skies. Crete, scented with wild fennel and fresh basil.Dizzying Crete, of the warlike dances.Crete, home of El Greco, Kornaros, Kazantzakis and Prevelakis. Crete, whose door is always wide open to both East and West. The dream of Crete, where a person might soar in flight.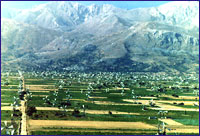 This island - the largest in Greece - separates the Aegean from the Libyan Sea, marks the boundary between Europe and Africa. Majestic mountains rise in its center - the White Mountains, Psiloritis, Dikti. Its plateaus are split by deep gorges and end up in fertile valleys. The scenery is constantly changing. In one place harsh and barren, in another wooded and gentle. Its villages smothered in greenery. Olive trees, orange groves, vineyards, early vegetable market gardens. Old stone farmhouses, monasteries and villages perched on mountain ridges, castles and chapels forgotten on steep slopes. Shores lined with forbidding rocks, often inaccessible, but also lots of endless sandy or pebbly beaches. Crete is renowned for the variety of its vegetation and the wildlife in its chestnut, oak and cypress forests. Not to mention its palm forests (at Vai and Preveli) and its cedar forests (at Gavdos and Hrissi). Medicinal herbs and fragrant shrubs - laudanum, dittany, marjoram and thyme - grow in rocky areas and the mountain tops are home to the "kri-kri" or Cretan goat. The main cities-ports on Crete - Hania, Rethimno, Iraklio, Agios Nikolaos, Sitia - all grew up on the north side, which is more benign topographically. Ierapetra is the only port on the south coast, on the shores of the Libyan Sea, facing Africa.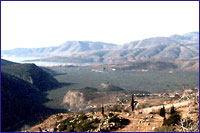 This island with its clear, warm sea, boundless beaches lined with tamarisks, splendid plateaus and mild starry nights has more to offer than its past, its gorges, unskilled peaks and climate. Today it continues to live fully and to develop, its cities particularly changing in appearance from one day to the next, in contrast to the many unchanging villages where life goes on in the same rhythm it has for centuries. There are hundreds of cafes where one can sit in the shade of a spreading plane, oak or mulberry tree and sip a "sweat" or "medium" coffee, or a glass of "tsikoudia" (raki) while playing a game of cards or "tavli" (backgammon).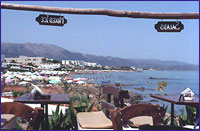 There are dozens of tavernas and ouzeries serving some tasty "meze", a specialty of the area. Yogurt and honey, sweet tarts (kaltzounia), pies made of wild greens flavored with fennel, fried cheese (staka), rabbit stew, cheese pie from Hora Sfakion, cockles, boiled goat. In the city of Hania, at Malaxa, at Vrisses, and other villages in the area, in Rethimno, in Iraklio and its villages, and in the whole district of Lassithi. Fish, sea urchins, octopus and cuttlefish cooked on charcoal and fried squid to be tasted at seaside tavernas. And everywhere the delectable Cretan wine. Every saint's feastday is celebrated with gusto at dozens of villages throughout the island; all Crete throbbing to the sound of the Cretan lyre and the rhythm of the local dances, the pentozali and the sousta. Meanwhile the housewives are preparing a steamed Cretan pilaff and special holiday fritters (xerotigana).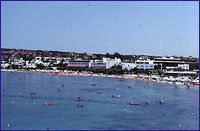 In the shop windows of bustling Iraklio, cosmopolitan Agios Nikolaos, picturesque Rethimno, and Hania, elegant furs, precious jewelry and artistic silverware attract the visitor's attention. In the shops of lovely Sitia and tranquil Ierapetra and in mountainous Anogia one is impressed by the spread out patanies, traditional local woven fabrics in dazzling colors, and everywhere one sees skillfully crafted ceramics and leather goods. In the "Stivanadika" district of Hania (Skridlof St.) traditional boots (stivania) are still made in the old-fashioned way, because though it may seem strange even today there are Cretans who still wear their traditional costume. In the marketplace of the same city, the only one of its kind, but also in similar shops all over the island, every kind of food, fruit and vegetable produced in the fertile valleys, hot houses and mountain regions, is laid out on display. Exotic avocados, Belgian endive and bananas, juicy oranges and fragrant melons, succulent figs and tasty prickly pears, delicious grapes, sweet tomatoes, tender cucumbers, fresh-watering sardines, tempting lobster, kid from the islet of Gavdos, honey perfumed with thyme, and wonderful cheeses - graviera (gruyere), myzithra (ricotta), fresh white cheese, and soft, luscious staka.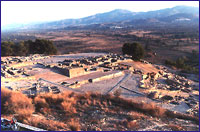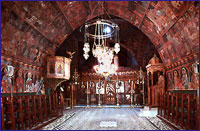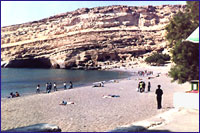 The evenings are enchanting spent next to the intoxicating aroma of a jasmine vine in an open-air cinema, seated in the comfortable chairs of a pastry shop, gathered round the table of a fish-taverna right by the sea, strolling in solitude on a remote, deserted beach, or why not, enjoying the rhythms of rock in a discotheque or bar or conversing in the spacious lounge of a luxury hotel.